Our Doctors
Matt Jones, DVM
Dr. Jones is the owner of Loveland Veterinary Clinic since 2006 and graduated from Iowa State University in 1987 with his veterinary degree. He has done a lot of mixed animal work in Wisconsin, Idaho, and has been in Colorado since 1989. He has worked on a variety of animals including a jaguar, zebras and a mountain lion! He and his wife, Jennifer both grew up in rural Iowa. Jenn is an OB/GYN NP and works part time in Lafayette. They have a son Riley and daughter Rachel, and several pets including a golden Rambo, a cat Barney, and a horse Caesar. He enjoys the outdoors, exercise, art, archery and shooting.
---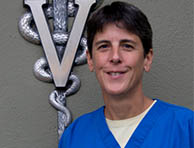 Kim Ackerman, DVM
Dr. Kim Ackerman was raised in Maryland. She graduated from Cornell University with her veterinary degree in 1989. After living in New Hampshire and working in a small animal practice outside of Boston for 18 years she moved to Loveland with her husband, Bill, and son, Alex. While working in New England, she developed a strong interest in dentistry, finding that it was one way she could make a huge difference in the day to day comfort of her patients. She enjoys hiking, backpacking, biking, walking, and spending time with her family. Kim joined our practice in 2008.
---
Michelle Leonard, DVM, MS, CVA
Dr. Michelle Leonard was raised in Minnesota, but moved to Colorado in 2002. She attended CSU for her undergraduate and Master's Degrees, and graduated from CSU's veterinary school in 2013. During her schooling, she was also certified in veterinary acupuncture. Her special interests are alternative therapies (acupuncture, massage), reproduction, and preventative medicine. Michelle enjoys baking, trying out new restaurants, and watching horror movies. She currently lives in Fort Collins with her 2 cats, Champ and Kirby.
---
Susan Williams, DVM
Dr. Susan Williams joined Loveland Veterinary Clinic in 2017. She completed her undergraduate studies at the University of California in San Diego and received her veterinary degree from Colorado State University. Susan has owned her own ambulatory equine practice for 20 years. She loves spending time with her two boys and her menagerie of pets.